Video marketing is quickly becoming the go-to choice for enterprises looking to promote their products and services. With the rise of social media, videos have become more accessible, shareable, and engaging than ever.
However, some entities may still be wary of investing in professional video production for their content. After all, it is an investment and can be time-consuming. But the truth is that the potential rewards of video marketing are too good to ignore. Below are just a few of the many benefits of investing in video marketing:
It Draws in Crowds
In today's competitive landscape, ensuring that your marketing strategy focuses on delivering high-quality content is essential. With a seasoned team, you can create content to get your message across effectively, engage with your audience, and help you stand out.
An experienced producer can create videos that will capture the attention of your target audience and compellingly deliver your message. With the right equipment and team, you can create visually stunning messages that make a lasting impression on your audience. Professional services ensure that your content is of the highest quality, with no technical or production errors that can ruin your message or take away from the overall effect with sloppy work.
It Is an Economical Option
When it comes to creating high-quality videos, budget is a significant concern. Fortunately, professional video producers can help you make sure you get the most out of your budget while delivering top-notch content.
Not only do seasoned video producers understand what it takes to create a good video, but they also have the experience and expertise to ensure you get the most bang for your buck. They know how to use the right tools and techniques to minimize costs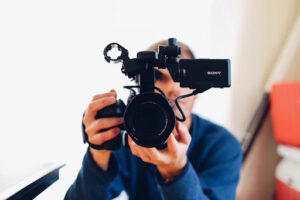 while producing high-quality content. They can also provide insights into which video production techniques are most cost-effective and which ones are worth the additional investment.
On top of all of that, professional video producers can also help you maximize the potential of your content. With their knowledge of trends and techniques in the industry, they can advise you on how to make sure that your videos resonate with your audience and stand out from the crowd. They can also guide how to use your videos to help you reach your marketing and communication goals.
Your professional team will provide invaluable assistance when it comes to creating quality content and budgeting effectively.
It Has a More Direct Call to Action
Creating a video that engages your audience and encourages them to take action takes more than just a few clicks of a camera. There is a visual story and one you hear in each video. Combining those expertly will provide a visually stunning film and a forceful direct CTA (call-to-action) that will encourage viewers to take the next step.
Whether you are looking to generate leads, increase conversions, or drive more sales, professional video producers can help you create a video that will get the job done. These teams understand that compelling videos need more than just visually pleasing. They know viewers need to be given a direct CTA to purchase or take the desired action.
Conclusion
Professional video production can be a powerful tool in helping your company succeed. It offers a great way to showcase your brand, product, or service engagingly and memorably. Video production can help you reach a wider audience, increase brand awareness, and boost sales. Investing in professional video production can be a wise decision for any business looking to make a lasting impression in their industry.
Now that you know the benefits of professional video production services, you should consult Kim Brattain Media. We will help you every step of the way so that you can make the most out of your investment. If you want to become more profitable, schedule a brainstorming session now!